Skydiving is a term used to describe the sport of free falling (usually from an aeroplane) through the air prior to opening a parachute. Skydiving is a great adventure sport for giving your body a sensory overload and massive adrenaline rush. Now you have a chance to experience the same in India. This blog is all about everything you need to know about skydiving in India.
 Unlike roller coasters which combine the forces of gravity and acceleration (known as g-force) to provide the excitement. Whereas skydiving doesn't need to rely on g-force. Gravity does all of the work so the stomach-turning feeling you get from a roller coaster ride is nonexistent.
Types of Skydiving in India
It just takes one jump and you are all set. There are many types of parachuting and skydiving in India to try out, offering bigger, better and just different thrills than a standard skydive.
 Accelerated Free Fall
In this you jump with two instructors, but once you open your parachute you are on your own. You must deal with any problems that arise and you must land on your own. This type of jump involves leaving the plane at approximately 15,000 feet, free falling for 10,000 feet and then pulling your own rip-cord.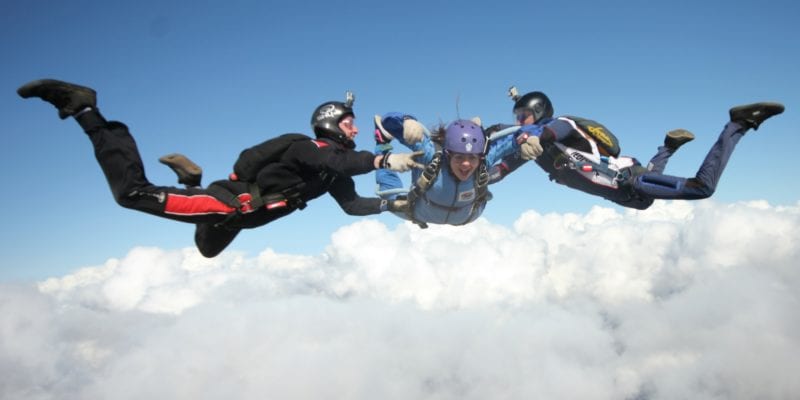 Tandem Jump
On a tandem jump, you'll be harnessed securely to a qualified tandem skydiving instructor. You will exit the plane together and enjoy the company of your professional guide to freefall for around a minute before your parachute opens. Your instructor conducts you safely back to the ground. The risks of tandem skydiving are, of course, in the things–little and big–that could potentially go wrong as that process unfolds. If you're worried about those eventualities, don't worry: We're here to break down tandem skydiving safety piece-by-piece. So you have a better understanding of what risks are involved on a skydive.

Static line
Rather than opening the parachute on the descent after freefall, a static line involves a fixed line in the plane to which all jumper's parachutes are attached. Upon jumping the line pulls a cover off the cute and releases the canopy. You might be familiar with this kind of jumping from war films.  It is a highly favoured military strategy for getting many jumpers out of the same plane quickly and safely.
What is the typical height of Skydiving in India?
Typically skydiving in India is carried out from around 4,000m (or 12,500ft) offering 40 to 50 seconds of freefall time. Longer free fall times can be achieved by exiting an aircraft at altitudes much higher than 4,000m. But such jumps require pressurised oxygen within the aircraft for very high skydives.
During skydiving,  we have total freedom and control over our movements in the air. During later stages of Skydiving there are more complex maneuvers like flat turns, somersaults and formation skydiving.
Skydiving can be enjoyed either as an individual – doing solo jumps – or as part of a team carrying out formation skydiving. Generally the term 'skydive' refers to the time spent in freefall from exiting an aircraft to deploying a parachute. Skydiving does include some disciplines such as accuracy landings and canopy formation flying which concentrate on the time spent once a canopy has been deployed.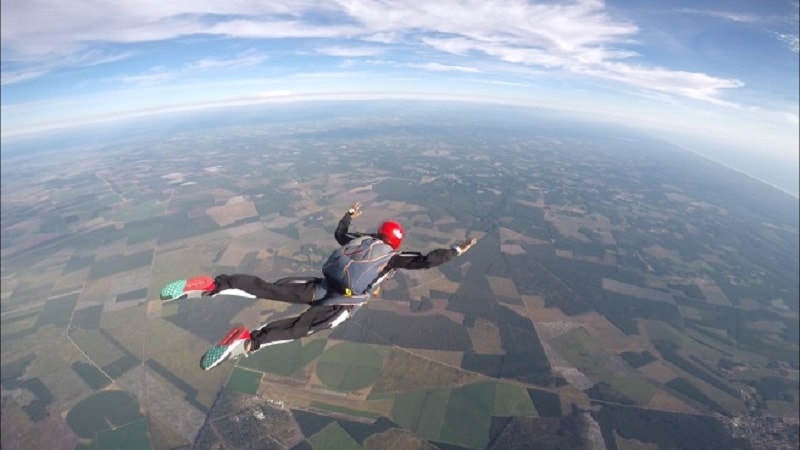 The feeling of skydiving is one you can't replicate. Due to the anticipation of jumping and the speed at which you free fall. Typically 120 mph, it's all a blur – that's why many people get the videos/photos of their first jump. When it comes to an introduction to skydiving, there's no way we can't mention the incredible amount of adrenaline associated with the sport. What draws many people to try skydiving in India for the first time is the thrill of simply falling through the air. This same thrill is still experienced by even the most experienced skydivers. You simply can't beat that feeling of excitement as you get ready to exit a plane, followed by the thrill of falling through the sky.

Check out more blog, what does it feel like to skydive, to know the feel of skydiving.
Once you have done a few jumps, the other biggest buzz for skydivers is the total feeling of freedom you experience. You will learn to have total control over your body in order to perform complex maneuvers in mid-air.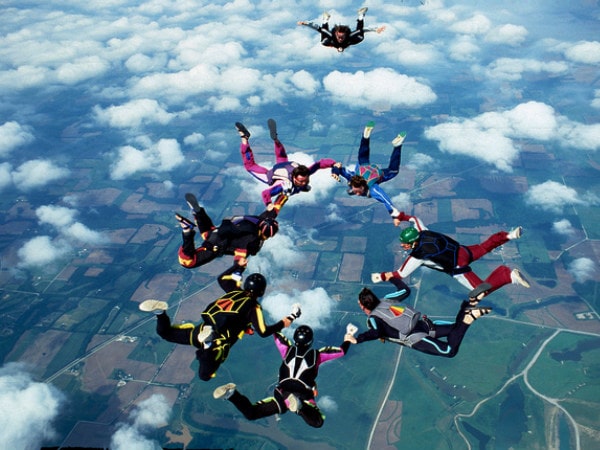 Who can do skydiving in India?
Skydiving is a sport open to anyone over the age of 16 (participants under 18 will usually require a signed letter from a parent or guardian). If you are over 40 most drop zones will require your doctor to sign a medical certificate.
However, regardless of your age it is good advice to consult your doctor to make sure you are fit to jump. The maximum age for many drop zones is 60 (although it's not unheard of for people to mark their 80 birthday with a skydive!). Skydiving is usually limited to individuals under 16st or 100kg (220 lbs) in weight.
Tandem skydiving has made the sport accessible to disabled participants and enables the opportunity to enjoy the thrill of skydiving.
Alternatively, you can visit your local drop zones. Skydivers are usually an extremely friendly bunch and always keen welcome new members to the sport. Your first few jumps can be a daunting experience. But, don't forget that every skydiver you meet at a drop zone will have once been a beginner too. They will always give you help and advice if you want to get involved in skydiving.
If you have any doubts as to whether or not you want to get involved in skydiving then you will soon be overcome when you see the looks of sheer enjoyment on people's faces as they land!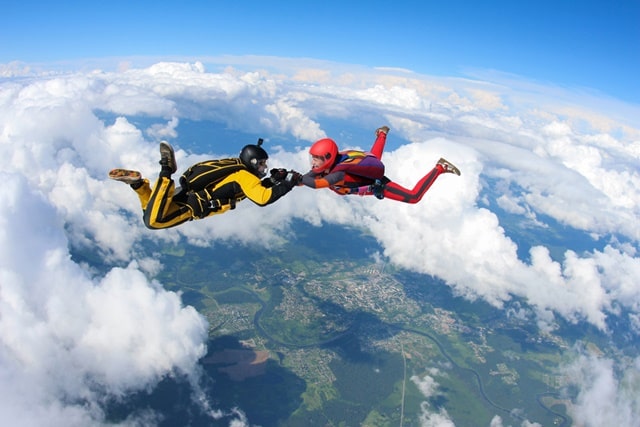 Where can you do Skydiving in India?
There are many factors that decide the most suitable places for skydiving such as the place where you are located and the typical weather conditions, since very strict limits on wind speed and cloud levels are enforced for novice jumpers.
These are some places where you can do Skydiving in India:
Kurnool, Andhra Pradesh

Aamby Valley, Maharastra

Deesa

, Gujarat

Mysore, Karnataka

Pondicherry, Tamil Nadu
But why care if adventuresome is here. Contact us www.adventuresome.in and get best deals across the globe for skydiving in India.
Should I buy my own skydiving equipment?
It takes a lot of courage to go skydiving. Passion, bravery, a willingness to step into the unknown. So it makes it very important to have the right gear. Here is a list of equipment that is typically used by skydivers.
A skydiving parachute

The Skydiving aid

Skydiving altimeter

Skydiving jump suit

Goggles and helmet
We would recommend buying the own gear but it is very expensive and could cost somewhere around 2-3 lakhs. But why buy it if you can rent it. You can probably start with something simple like your goggles. It's nice to have your own pair. You'll know that they're in great condition and that they are adjusted to fit you, so it's easy to grab them when you need them.